Grand Hotel Europe,

Saint Petersburg
We will talk about the "
Grand Europe Hote
l," located in

Saint Petersburg

, Russia. The Grand

Europe Hotel

is one of Europe's elite
hotels
, which attracts guests from all over the world, including the wealthy and super wealthy.
Beautiful pictures of Grand

Europe Hotel
For a little bit about the hotel's history; the hotel originally opened on January 1st, 1875 and was in operation until the beginning of the Russian Revolution of 1917, when the tsar was forced to abdicate his title and was sent into exile. The hotel reopened in 1991, shortly

after the fall

of the communist government in Russia.
Front of Grand

Europe Hotel
As for the features of the hotel, it has
301 rooms
with restaurants called the "
Europe Restaurant
," "Sadko's," "Chopsticks," "Mezzanine Café" and "Brasserie." For the hotel's amenities, they include a minibar, a personal safe, satellite television, international telephone with modem, armchairs, writing desk, hairdryer and wireless Internet upon request in each room and suite. Not bad for a luxurious hotel, huh?
Room in Grand

Europe Hotel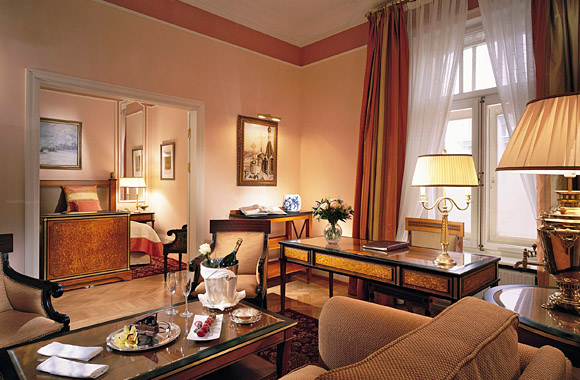 In speaking of suites, the hotel's infamous Lidval Suite is has been occupied by famous politicians and public figures from all over the world, including former U.S. president,
Bill Clinton
, Hollywood actress
Jane Fonda
,
HRH Prince Charles
of England,
Jimmy Carter
and more!
Lobby of Grand

Europe Hotel
What must you do while staying at this hotel? Well, there is one thing and that thing is to see the famous and beautiful sculptures that are on exhibit. There are works from Michelangelo and other famous sculptures.
Restaurant in Grand

Europe Hotel
Also, you should try out the "Caviar Bar," where you can taste some of the finest caviar made in all Europe. For a little R&R, relax for a spell in the hotel's Health Club and Beauty Room, where you treat yourself to a good session of sauna bath and/or take a swim in the room's swimming pool.
pool
Want to get your blood pumping? Get a workout session on a treadmill or on another

exercise machine

. Well, that concludes our tour of this exquisite hotel, so good luck and happy stay at the "
Grand

Europe Hotel
!"